STAINLESS STEEL - EXCELLENT FITTING - MORE POWER - MORE TORQUE - BETTER PERFORMANCE - DEEPTONE SOUND -
LASER DEEPTONE EXHAUST SYSSTEMS for cars are extensively developed for increased performance,deeptone sound and long life.Each rear box is specifically designed to increase performance and give the car a sporty sound and a great look!
The "Rotation Flow System": the helicoil louvred baffles give a real turbo-effect, resulting in a radically reduced backpressure, better performance and more torque.Completely finished, even on the inside!
All LASER Exhaust Systems are hand built made of Stainless Steel.Three years warranty on car mufflers.Tested and Proved power increase. EC approval on tailpipes and endmufflers.
LASER Manufacturing company is market leader in exhaustmsystem technology.
The chart herebelow shows a test made on Alfa 145 2000 QV T.S. .You can see the horse power increase of about 6 HP by just replacing the standard endmuffler with a LASER DEEPTONE.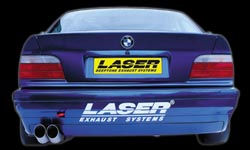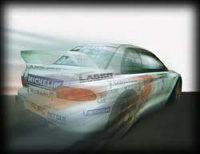 SUBARU RALLY CHAMPION BMW WITH LASER FOR TOURING CHAMPIONSHIP. IS EQUIPPED WITH LASER.